Epic Games continue to give away free games. This week they are giving Borderlands: The Handsome Collection completely free. All you have to do is go to the Epic Games Store and add the game to your library. Some players who previously redeemed free games won't need to fill two-factor authentication. However, new players are required to full fill two-factor authentication before grabbing free games. This initiative was taken to prevent spammers.
Moreover, the Borderlands: The Handsome Package includes Borderlands 2 and Borderlands: The Pre-Squel. These games can cost upto $60, so enjoy while they are free.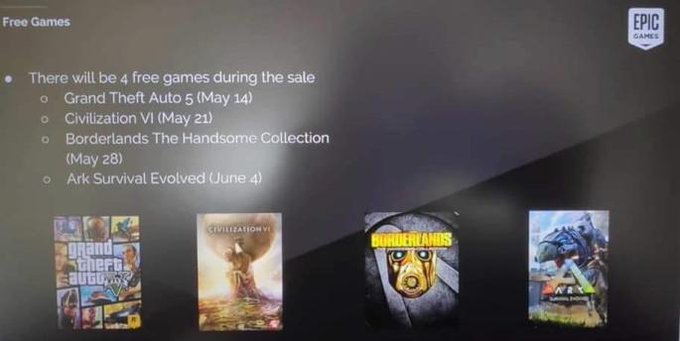 In the same vein, someone leaked the photo of all upcoming free games on Epic Games Store. So far the leaker has got everything right. The dates along with the sequence of the game are 100% accurate. Hence, we can predict that Ark Survival Evolved will be free to grab from June 4.
Coming back to Borderlands, players have also reported crashes and numerous bugs after the game went free. This case is very similar to what happened after GTA V went free. The store crashed numerous times due to heavy load.
Borderlands: The Handsome Collection System Requirements
| | |
| --- | --- |
| Minimum | Recommended |
| OSWindows XP SP3 | OSWindows XP / Vista / Win 7 |
| Processor2.4 GHz Dual Core Processor | Processor2.3 GHz Quad Core processor |
| Memory2 GB | Memory2 GB |
| Storage13 GB | Storage20 GB |
| DirectX9.0c | DirectX9.0c |
| GraphicsNVIDIA GeForce 8500 / ATI Radeon HD 2600 | GraphicsNVIDIA GeForce GTX 560 / ATI Radeon HD 5850 |
500,000 New Witcher Books are being printed in the US.
The Witcher 3 player base has increased significantly, on par with Red Dead Redemption now