I don't know what to say at this point, but well it has finally happened. Call of Duty Modern Warfare is now 200 GB on PC, and to be very honest this does not sound right. The game's season 5 has just been added, and it seems that it has a massive size. The New Season 5 is going to bring dozens of features, so I guess it'll be really worth it.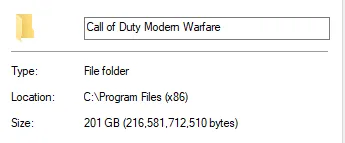 Anyway, according to most fans, the game size was previously 193 GB, however with this update. It has now become a whopping 234 GB. Anyone, who is using a 256 GB SSD for games will definitely hate this update. I don't know what's the problem with Infinity Ward or Call of Duty Modern Warfare, because this game takes huge size and I haven't seen a game this big on PC. Other than this, various COD Games do not exceed 100-150 GB Mark, so I guess there is something special about Call of Duty Modern Warfare?
In my opinion, the game file sizes might be really huge comparing to other COD Games. We do not have any authentic explanation for this. But I guess in the near future when the size keeps increasing, Infinity Ward might tell us what's wrong.
Similar Reads